Thu 18 Jun 2009
A tatter from one of the tatting email lists requested a pattern for a Tinker Bell. I have always wanted to come up with a Tinker Bell tatting pattern. Below is a link to a diagram that I just made of a possible tatted Tinker Bell pattern. I give suggested techniques and show where you could start and finish each part. It is made up of several rounds, so there is lots of cut and tie. Tink is a complicated little pixie!!!! It features SCMR(self closing mock ring), SR, and ring and chain. Nothing too fancy. Most of it is ring and chain, easy tatting. I can muster up the diagram but don't have the time to actually tat it out to test if my technical and drafting elements work. That is where you wonderful tatters come into play!!!
It is up to you to figure out the stitch counts and placement of picots. What a challenge, eh??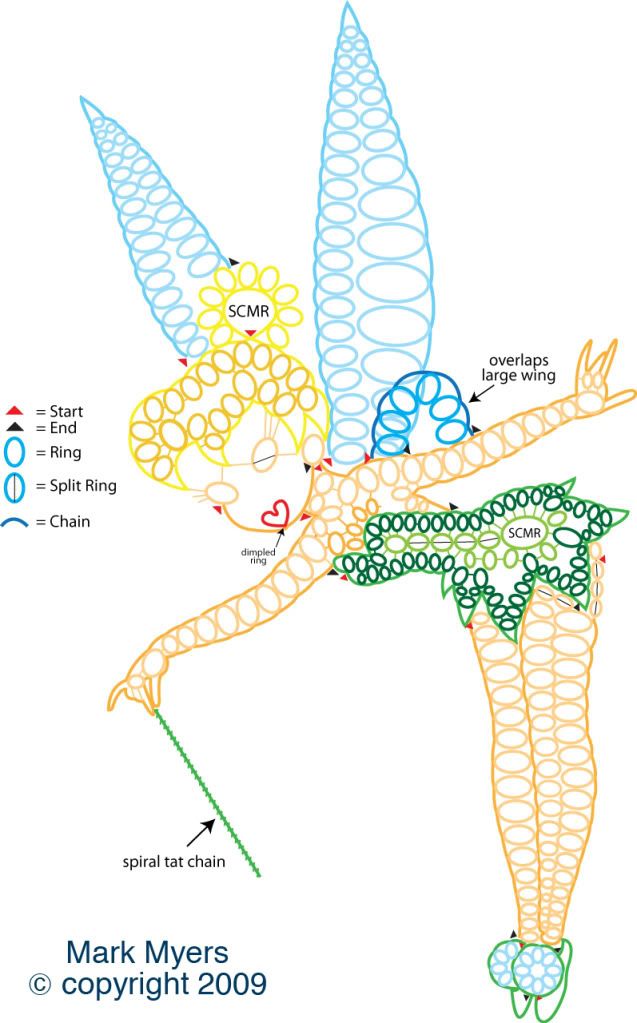 I may someday tat this up to test it for my own satisfaction. I hope it works out OK for you. Would LOVE to see the end result if you do
make it.
SPECIAL NOTICE: Tinker Bell is a copyrighted icon(and that goes with any character or icon), that I can only copyright my diagram as presented. And if you tat it up it would be for only personal use and the tatted article or pattern cannot be sold in any way. Just for clarification. So this is just between tatting friends and having a bit of fun.
7 Responses to " Tatted Tinker Bell Diagram pattern "
Trackbacks & Pingbacks: